Blog categories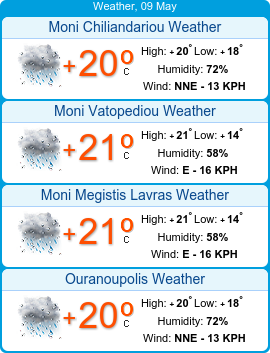 List of products by brand Симонопетра
Simonopetra Monastery
The monastery of Simonopetra is located on the southwestern hillside of Mt. Athos, atop a high rock overlooking the sea from three sides.
St. Simon the Blessed founded the monastery in the 13th century.  According to legends, Our Lady came to Simon in a vision and ordered him to build the monastery at this particular location.  The commissioned masons couldn't find the courage to commence the construction of such an enormous building on a rock as protruding as this one, above an abyss. Moreover, fearing an earthquake, which are a frequent occurrence on Mt. Athos, they gave up.  This is when Simon invited the masons to dinner and during the meal, one of the novices slipped as he poured the wine and fell into the abyss, holding the jug of vine in one hand and a glass of wine in another.  Outraged by the accident, the masons condemned Simon telling him that if he chose to continue the construction there, many similar accidents were bound to occur.  In complete silence,  Simon prayed to Our Lady in secrecy. What happened then?
Out of the blue, the fallen servant appeared on the opposite side, completely unharmed and still carrying the glass of wine, without a single drop spilled.    This miracle marked the beginning of construction of St. Simon's monastery. The name "Simonopetra" was derived from his name and means "Simon's rock" and also, New Bethlehem. 
The construction was greatly aided by the Serbian ruler Jovan Uglješa, as a token of gratitude to St.  Simon for healing his daughter.  He subsequently entered the monastery's brotherhood. Due to limited space, the monastery is extremely tall, with multiple storeys and balconies overlooking the abyss.  The monastery was afflicted by fires several times (in the period between 1581 and 1621) and was plundered during barbarian invasions. Yet, it has always managed to recover. 
The catholicon is dedicated to the Nativity of Christ (January 7, according to Gregorian calendar).
The treasures include a piece of the True Cross and fragments of the following saints' relics: parts of hand of St. Mary Magdalene, St. Eudokia and St. Barbara, St. Cyriacus's foot, Paul the Confessor's head, St. Sergius's foot, Patriarch Modestus's head, St. Panteleimon, John the Baptist, St. Tryphon, St. Naum, St. Parascheva, St.  Symeon Stylites etc.
There are 11 chapels in the monastery besides the catholicon.
The monastery of Simonopetra is ranked 13th in the Mt. Athos hierarchy. 35 monks occupy the monastery, whereas another 25 live in cells.
Sorry for the inconvenience.
Search again what you are looking for