Blog categories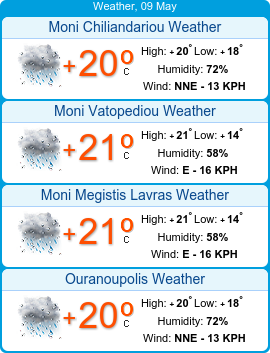 List of products by brand Григоријат
Gregoriou Monastery
The monastery of Gregoriou is situated atop a rocky coast in the southeast of Mt. Athos, between the monasteries of Simonopetra and Dionysiou.  It was founded by Gregorius of Sinai in the 14th century. The monastery was occupied by many Slavic monks and afterwards it fell in the hands of Greeks. 
It has sustained much damage during the Turkish occupation and Arabian pirates' attacks, especially in the years 1497 and 1513, when great devastation took place.  The Prince of Moldavia, John Stephen the Great helped the monastery recover after the first disaster.  In 1761, fire afflicted great damage to the monastery and destroyed many buildings, as did the Turkish raids of 1821.   Subsequently, the monastery was rebuilt with the assistance of Moldavian and Wallachian rulers and many other benefactors. 
Built in the 18th century, the catholicon is dedicated to St. Nicholas.  A biography originating from the same period was preserved.  On the outside, the high-walled monastery has the traditional appearance of a fortress.  The monastery gained independence in 1840, by a brotherhood decision and a charter issued by Patriarch Anthimus IV.
Among the monastery's treasures are an exceptionally rare Our Lady icon, a gift from the Wallachian ruler Maria Palaiologos, Stephen the Great's wife.  The treasure caught fire during two horrific fires, but remained undamaged. In honor of the miraculous event, the icon still stands in its former place.    The church preserves the relics of the following saints: St. Anne, Charalampus, Gregory of Nazianzus the Elder's head (father of Gregory of Nazianzus),
  St. Photinе's head, St. Julia, Cosmas and Damian etc.
The monastery contains 8 chapels besides the catholicon. 
The library stores many ancient manuscripts and over 4,000 books.  
It is renowned for its impeccable cleanliness, nurtured by its monks.
Gregoriou belongs to the group headed by Hilandar and it occupies the last place in this hierarchy.
It is ranked 17th in the Mt. Athos hierarchy.
Approximately 60 monks occupy it today and another 20 live in the neighboring cells.
Sorry for the inconvenience.
Search again what you are looking for