Blog categories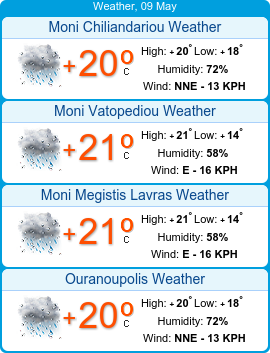 List of products by brand Ксенофонт
Xenophontos Monastery
The monastery of Xenofontos is located on the sea coast in the southwest of Mt. Athos and between the monasteries of Panteleimon and Docheiariou.
It was founded in the 10th century by St. Xenophontos, after whom the monastery was named.  In 1083, the construction was continued by another Byzantian noble, Stephen drungarius, subsequently a monk with the name of Symeon.  The monastery was reconstructed and rebulit after the difficult period or crusades, Saracens' invasions and the Byzantine demise.  In 1545 it was renewed by the Wallachian Prince, Matthew Basarab and nobles Duka and Radul.  The later modifications were undertaken in the 19th century.
The monastery was among the first to become idiorrhythmic.
The monastery is surrounded with high stone walls with a fortified guard tower, and the courtyard is split into two parts.  The marble catholicon, dedicated to Saint Gregory and built in the early 19th century, is situated in the larger courtyard.
This is one of the most magnificent temples of St. Athos, only following the St. Andrew and St. Elijah sketes.
 A 16th-century church stands in the smaller courtyard, which is the home of two revered mosaic icons of St. George and St. Demetrius of Thessaloniki.   Besides the catholicon, the monastery contains 8 chapels. 
Among the treasures of Xenophontos are two wonder-working icons stored in the catholicon – Our Lady of Hodegetria, meaning "She who shows the way". Legend has it that she traveled alone to Xenophontos
from Vatopedi on multiple occasions. Furthermore, there are the icon of St. George and relics of the following saints: the Great Martyr Mary, St. Modest, James Intercisus, Charalampus, Panteleimon, Parascheva etc.
The holiday of the Xenophontos monastery is April 23, the day of St. George. 
The library holds a collection of ancient manuscripts and books.
Today, the monastery is ranked 16th in the Mt. Athos hierarchy and is occupied by around 50 monks.
Sorry for the inconvenience.
Search again what you are looking for